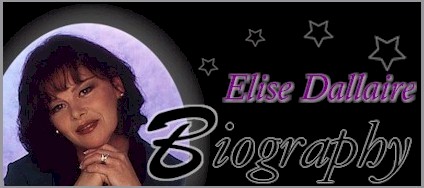 Elise Dallaire was born and raised in the northern Ontario City of Timmins, located approximately 400 miles north of Toronto. The area is considered a by-product of the Gold Rush era, at time that attracted prospectors by the score. Most, ultimately worked in the mines, settling down and raising their families. Elise's father, William Dallaire, known as 'Willy the Map' because he knew the area like the back of his hand, was no exception, having worked in the mines since the age of sixteen.
Elise is the sixth born of thirteen children. Believing that six children is considered a large family by any standard, Elise's older siblings helped look after her. They in turn, trained Elise to assist her mom to look after the last seven children.
Although her parents struggled to provide for their large family, with no television in the home, there was little to do for entertainment. On occasion, when her father wasn't working in the mines, nights were spent making music with the family. Elise's mother, Cecile Dallaire, would sing and yodel, while her father sang and played guitar. The entire family would join in. Recognizing her talent, at the age of 12, Elise's mother and father persuaded her to enter and sing in local variety shows. She would then sing on local radio and television programs and provided back up for local talent. She recalls the Variety Shows she played, in part, and recollects the words to many old tunes such as 'How Far is Heaven'.
Elise saw an advertisement in a Toronto newspaper for a lead singer, and auditioned. That was the beginning of her 'gypsy days'. Elise toured throughout Ontario and the Northern United States and this lasted for several years.
Elise settled in Toronto after an unpleasant experience on the road that almost completely halted her career in music. The words to "Love Conquers All" on her first CD of the same title, tells of the knight in shining armour who would in time, reawaken her passion of music that had been so deeply buried within.
It was not until 1994 when her eldest son James turned six years of age, that she would once again attempt her career, with full force. Her first CD, 'Love Conquers All', was finally produced in 1997 and released in 1998. The CD was dedicated to her mother, who passed away before its completion. 'She Tried' is a loving daughter's heartfelt rendition, in recognition and appreciation for the sacrifices her mother made in raising her family under difficult times. 'Going to a Place that's Called Heaven', a track on Elise's second CD entitled 'Moonstruck', truly expresses that devotion.

Elise's third CD is called "A Date With Destiny" and this work clearly shows her ability to move from one genre to another. The objective of this CD is clear, it is to bring our history to life in songs. The album is a clear reminder to us to not forget those who died opening up this vast area and their struggles with nature on the Great Lakes. The ability of Elise to tell stories through songs about shipwrecks, lighthouses and characters from our past and present is extremely moving and compelling. Living on Georgian Bay has obviously had an impact on Elise.

The fourth album recently released in 2006, called Let Me In, moves back toward her style found on her first two CD's. The music and lyrics once again catch her love of life and her connection to family and friends.

Elise writes her own songs and lyrics, drawing on her personal experiences and observations of people. She plays guitar, piano and keyboard. Most of her sisters and brothers continue to remain in the Timmins area. Elise's entire family continues to support and encourage her. Elise and her husband Stephen and their two sons, James and Adam, make their home on Georgian Bay in the Parry Sound area.